Powerful worship resulting in transformed lives


Newly released! Lori Adams' new solo-CD, "Healing Rain ~ Immersed in His Presence"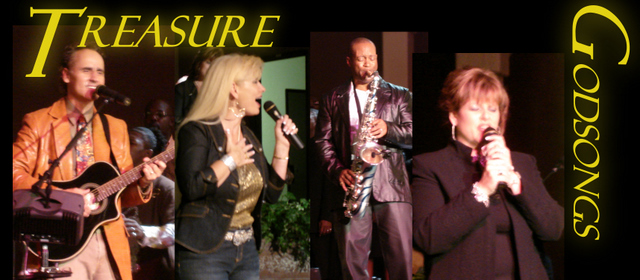 "You are His special possession... His precious Treasure" Malachi 3:16-17

As Treasure ministers, God "shows up" ~ ever new, fresh, in the midst of HIS glory, hearts are changed as these throne-room musicians allow the Spirit to move freely.
Together in harmony, moving under the direction of Holy Spirit, something special happens... "a God Moment".
Jim, Joy, Rico & Lori are now joined by Shanna Thomas, and Skylar and Cameron Adams each Saturday evening at the Gathering House. Come experience a powerful anointing and that special 'Treasure sound'

Treasure has recorded several CDs (see sidebar), and brought their music to many nations. The group is presently in a wonderful season of Saturday worship services in Glendale, Arizona, at The Gathering House. If you want to experience new heights in worship, we invite you to come and experience The Gathering House every Saturday at 6:30pm! Click here for more information.








From our hearts to yours...
Thanks so much for getting acquainted with Treasure! We'd love to meet you personally - come visit us at The Gathering House!

Concerning "matters of the heart" we believe that Jesus Christ truly is the Son of God. He sees us, hears us, and still touches people today. We must open our spirits and He will listen. He is truth, HE IS LOVE - Get to know Him, it will change your eternity.
John 3:16 "For God so loved the world that He gave His only Son so that who ever believes in Him, might be saved and have everlasting life"

Your donations enable us to further the gospel of Jesus Christ
THANK YOU

Treasure Ministries is an IRS-recognized 501c-3 non-profit charitable organization.
All donations are tax-deductible ~ and very much appreciated

CONTACT INFORMATION
For correspondence, mailed donations, etc. please use Treasure's mailing address:
16845 N. 29th Ave, #444, Phoenix, AZ 85053
Phone/Fax: 623-434-1795
email: treasure@treasure.org
website: www.treasure.org
Gathering website: www.thegatheringarizona.com